Laser welding machine Principle of
Laser welding is a process that uses the radiation energy of laser to realize effective welding. Its working principle is to excite the laser active medium in a specific way to make it oscillate back and forth in the resonant cavity, so as to form an stimulated radiation beam. When the beam contacts with the workpiece, its energy is absorbed by the workpiece, and welding can be carried out when the temperature reaches the melting point of the material.
Advantages of laser welding machine
1. Micro welding is possible
A small spot can be obtained by focusing the laser beam. Because it is not affected by the magnetic field and can be positioned accurately, it can be used for micro welding, which is suitable for the assembly welding of micro and small workpieces produced in large quantities.
2. No loss
Because laser welding is a non-contact processing, there are no problems such as tool loss and tool exchange. At the same time, it does not need to use electrodes, so there is no concern of electrode pollution or damage, and it is easy to carry out high-speed welding with automation. It can also be controlled by digital or computer.
3. Flexible and changeable
It can weld refractory materials such as high melting point metals, and even non-metallic materials such as ceramics and plexiglass. It can weld special-shaped materials with good effect and great flexibility. It can carry out non-contact long-distance welding for parts that are difficult to access.
4. High speed, high power and small deformation
Laser welding belongs to non-contact welding. It does not need pressure in the operation process. It has the advantages of fast welding speed, high efficiency, large depth, small residual stress and deformation. It can be welded at room temperature or under special conditions (such as closed space). The welding equipment is simple and does not produce X-rays.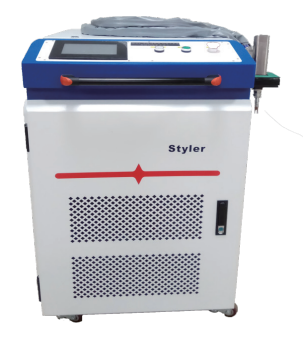 Save labor cost
1. Hand held laser welding is fast, 2-10 times faster than traditional welding.
2. The welded seam is smooth and bright without subsequent grinding, the welded workpiece is not deformed, the welding is firm, and the time and cost are saved.
3. Technical requirements as long as the basic computer knowledge, ordinary employees can, unlike the traditional welding machine, which requires a master with high operation experience and good technology. So as to once again provide a part of labor for the enterprise festival.
Application of laser welding
With the vigorous development of the welding industry, the types of laser welding machines in the market have become more and more abundant, and the scope of application of laser welding machines has become more and more extensive.
Laser welding machine has many advantages, such as high welding precision, fast speed and no deformation of materials after welding. It is widely used in complex and irregular welding processes in cabinet, kitchen and bathroom, stair elevator, shelf, oven, stainless steel door and window guardrail, distribution box, stainless steel home and other industries. Laser can enable people to make effective use of unprecedented advanced methods and means to obtain unprecedented benefits and achievements, so as to promote the development of productivity.