How to choose Laser welding machine Power? If you need a welding depth of 0.5mm, the 200W laser welding machine is OK. It should be noted that if it is welding and spot welding, 200W is enough; If it is continuous welding, it is better to use the one with high laser power, because the depth of 200W laser welding machine can weld 0.8mm; In case of continuous welding by roller press, YAG Laser welding equipment The welding depth is about 0.5mm, so it is best to choose 250W or 300W laser welding machine. By analogy, the deeper the required welding depth, the greater the power of the corresponding laser welder.
The power range of laser welding machine is 200W ~ 800W, and the corresponding power is selected according to different products. The welding depth of laser welding machine can reach 3mm, which is firm and beautiful after welding, has no defect rate, and is convenient for operation and learning. It also has a wide range of applications. Due to the high precision of laser processing, it is very suitable for valuable and small products in the jewelry industry. Because the laser focused beam is very thin, the small parts of jewelry are magnified with a microscope to realize precision welding. The connection between jewelry chain and inlaid gem shall be completed by laser spot welding machine, which is a necessary equipment.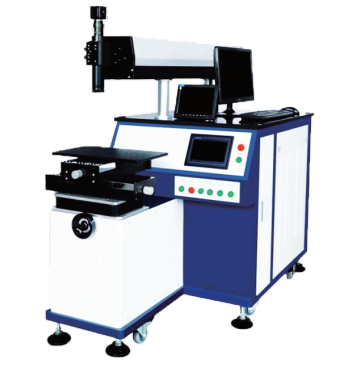 Recommended model of laser welding machine power supply: zxl-200w digital products, mobile phone and computer industry. Laser processing is a precision processing technology, which is widely used in digital, mobile phone, computer and other fields, such as laser welding of mobile phone, MP4 and MP3 shell, spot welding of interface line, laser welding of notebook computer and optical fiber equipment, computer box joint assembly welding and butt welding of hardware, tools and instruments, sensors, Kitchenware and tableware, mold making Mold repair and transformation during use. The seamless welding of stainless steel tableware and the welding of instrument core connection, laser welding has a good appearance, so it is widely used in laser marking and laser welding of high-grade stainless steel products. For example, the handle, faucet, stainless steel tableware and cutting tools are mostly made by laser marking the enterprise logo, and the sealing of high-grade electric kettle is also completed by laser welding. Optical fiber continuous welding machine is used for assembly, welding and butt welding of kitchen supplies and tableware, mold repair and transformation during mold opening manufacturing and use. Laser processing in automobile and electric vehicle industry is non-contact processing, which has no pollution to products and high speed. It is more suitable for the welding of automobile high-end consumer goods, such as the welding of automobile dial, valve, piston ring and cylinder gasket, exhaust pipe Welding of filter, automobile airbag generator, etc.